TLC's septic services are the most comprehensive you'll find in Southwest Montana. We are licensed in 4 counties in Montana for septic installation and in 56 counties for septic pumping, so we understand the diverse needs and issues that can arise with septic service, treatment, installation and maintenance.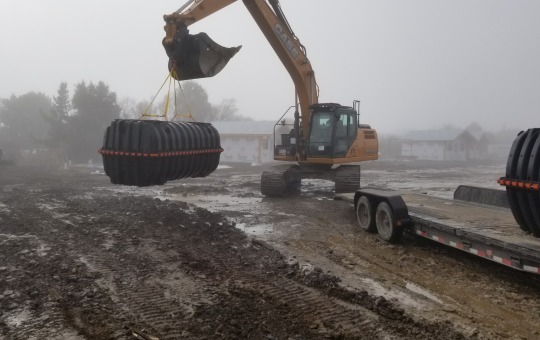 The experience and equipment for all your septic needs.
Septic Equipment
TLC's specialty is septic service. We not only have a staff of trained professionals but also the equipment for every specific service need, big or small. Even our porta-potties come with a promise of weekly sanitation and pumping with equipment we own.
Septic Tank Inspections & Maintenance
TLC's septic services include septic inspection, because one way to prevent pricy repairs, is to inspect and maintain on a regular basis. Your septic system should be inspected annually, including as soon as the house is put on the market for sale. Likewise, if you are purchasing a new home, it is in your best interest to have the septic tank inspected to avoid any issues that might result from a malfunctioning system.
We own a state-of-the-art diagnostic camera with color recording, as well as a water jetter, that can reach 400 feet. With this tool, we can unthaw frozen pipes, drain fields and tanks and then pump out what may have been unaccessible to other companies not fit with these tools. Our Vac Tron Trailer and a Hydro-Excavation Truck enables us to clean storm drains, vacuum, and sumps and then haul away any type of material.
Drain Field Repair
After the drain field has been used for a long time, the system can begin to break down and create build-up, compromising the septic tank — rejuvenation allows the soil to absorb the waste water once more.
We recommend contacting us right away, as drain field leaks or backups are the type of problems you'll want to address before it becomes something much more costly. TLC's rejuvenation process exhausts drain fields quickly without costly excavation and replacement. Using a long, narrow probe and an integral pneumatic hammer to penetrate the soil to depths of from 3 to 6 feet. It then forces air into the soil at a controllable rate, fracturing the soil, and creating an aerobic condition. Because air tends to follow the path of least resistance, the air will move horizontally and vertically through the soil.
Keep your eye out for any of the following symptoms:
Soft spots on your lawn
Sewage leaking out of drain field
Sewage backing up into your home
Slow flushing or gurgling toilets
Sewer smell around your yard
Septic Tank Pumping
If you are unsure when the septic system on your property was last pumped, it's vital to get an assessment in order to avoid potential problems. Most septic tanks have a large capacity, but sludge build-up will eventually reach its limit and if the tank is not pumped properly, system failure will occur and result in expensive repairs and health hazards. Our qualified team at TLC Services provide efficient and reliable tank pumping services that keep your system running smoothly.
TLC Septic & Excavation Inc has provided reliable septic tank pumping services in the Belgrade for many years. For emergencies we do have 24 hour service — (406) 388-7696.
Most septic tank malfunctions are actually due to lack of pumping. Signs that your septic tank needs pumping include:
Pooling water
Foul odors
Slow drains
Slow toilet flushing
Sewage back-up
Poor drain field grass health
Nitrate concentration
Septic System Installation
If you are building or buying a home or business in the Gallatin Valley region that has no access to a municipal water system, TLC Services provides efficient installation of all septic tank systems. We are experienced in both residential and commercial septic tank installations and our licensed staff provide follow-up services and maintenance programs you can depend on as well as 24 hour emergency service. We are well-versed in pressurized septic systems and gravity septic systems.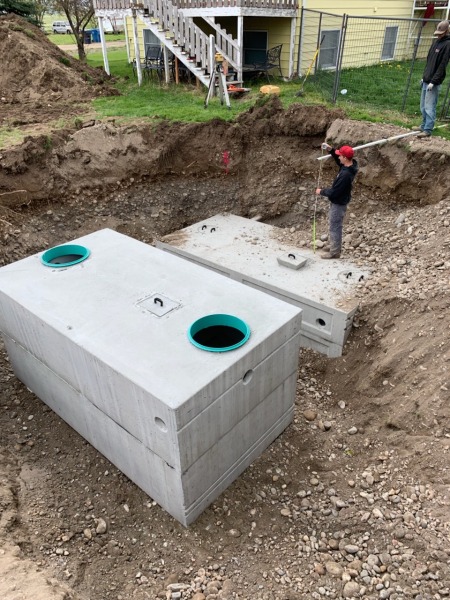 Septic Excavation
Our trained crews provide excavation services for building contractors, commercial businesses, municipalities and residential homeowners in Bozeman, Belgrade, Manhattan, Three Forks area. Excavation is always the first step in any septic tank or general development project, and we have the modern equipment and machinery operated by experienced staff to ensure the success of any building your project. Our excavation crew uses the best quality materials and is devoted to keeping a safe and clean work site.
Septic Tank Repair
Repairing your residential or commercial septic tank promptly is essential to protecting your drinking water — TLC Services provides complete septic tank repair and maintenance to ensure the safety of your family and the surrounding area, including:

Maintenance, repair and/or replacement of septic pumps
Replacement septic tank pumps
Replacement of floats for pump operation
Septic Tank replacement
Septic alarms repair and maintenance
Septic transport line replacement
Septic control switches repair and replacement
Drain field replacement
Drain field Rejuvenation to allow drainage
Full system replacement
When is it time for a septic tank replacement?
Foul odors from a septic tank — If you detect an unpleasant odor coming from your septic tank, or if the surrounding ground area is very moist, call us for immediate assistance to ensure that your system is functioning properly.
When sludge gets too thick in the tank — This causes incoming wastewater to back up onto your property resulting in health hazards. Treating your septic tank regularly with septic-safe cleaners and detergents is crucial to its proper functioning and helps to avoid major and costly repairs.
NEED IT DONE QUICKLY AND WELL?
We Can't Wait To Hear From You
Contact Us